Challenges that is... The ones that I'm currently working on are for SBT50 - if I don't get them done by their due date this Sunday
Vicki
will have gloating rights which i don't want to allow her to have LOL She thinks I wont get them all done - I say I will... I think I'm too stubborn to let her win this one hahaha so yesterday I got stuck in and completed
Sue's
challenge.
Challenge 3: Sue's Colour Challenge....
Designed for "Pink Ribbon" month in honour of October being Breast Cancer awareness month.
challenge requirements
:
* LO about an important female in your life
* Pink Ribbon
* Polka Dots
* Handmade Button
This LO is about my Aunt. I used to get teased a lot at school because of her. I used to wish that she was different when I was younger. I used to pray to God that she would become a normal person... it's taken a long time for me to realise that she is happy, she is herself and nothing is going to ever change. Silly I know.
May was born the way she is. Piecing things together it would seem that she was stuck somehow during the birthing process and was starved of oxygen. She is mentally retarded. Her mental capacity is around that of a 6 year old and there are also other medical conditions that she suffers with as a result. My grandparents fought to keep her at home and they raised her and she was with them until my nan fell and broke her hip which lead to both her and pop (who by then had Alzheimers) going into nursing homes. Now May is in the care of a group home and my mum takes her a few days every week to take her shopping and get some fresh air and 'normality'. With her age May is starting to get unknown illnesses and starting to become aggressive as she doesn't understand that her body is aging. She can't tell us where or why things hurt... it's a hard time now for her and those trying to help her. We don't know how much longer she has on earth with us, we have never known that, so we relish what time we do have and just love her for being her.
I guess because she wont understand what I'm talking about with how I used to feel etc, doing this LO has allowed me to say to her all the things I now realise and apologise to her for the thoughts and resentment I used to have for her. I love my Aunt (we simply call her May) so much, and am privileged to have had someone as loving as her in my life.
So some of the details...
polka dots and handmade button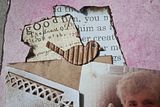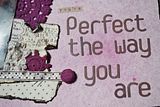 pink ribbon
The 'poem' I have written for the LO is
"Your body has aged,
and you've never grown up.
You're like a child inside
and look at the world with
innocence and wonder.
You were born this way.
No marvels of modern medicine
could fix what so many said was
a defect with your brain.
But you know what?
You're perfect the way you are."
I altered an envelope for my letter to May
and the letter says...
"May,
You've taught so many life lessons to those who have met you, you have fought so many battles, your life has been troubled but you have given so, so much with it and will continue to do so whilst you are on this earth.
You have taught us how to look at life through the eyes of a child at all time, how to laugh at ourselves, love those that may not be considered "normal". You have taught us that everyone has a purpose, no matter how big or small, there are lessons that we can learn from everyone. You taught us not to be afraid of people with disabilities; to love unconditionally. Through you we learned compassion and that we should always live in the moment.
May, I am so privileged to have you in my family, in my life, in my children's life. The lessons you have taught us, the way you have lived your life and shown love are lessons that so many don't have the honour of learning first hand. When your time on this earth is done and you are with Nan and Pop again I pray that I can continue to honour your life and that my children will remember their short time with you and live their lives with the lessons your journey has taught us all.
I write this in retrospect, as you wont understand what I am saying. There is no way that you will ever understand the impact you have had on so many people's lives, and how much they love you. May you don't know how much you give to others, you never will; but you are an inspiration.
And despite what people say about mental retardation and disabilities I want you to know that I believe you are perfect the way you are!
xxx"
Sue, thank you sooo much for this challenge... If it wasn't for this I probably wouldn't have scrapped this photo the way I have.. It's something I needed to do and address