I've recently discovered another gorgeous group of gals that don't mind me chomping their ears off... It's over at
the Little Scrapbook Shop
they have a LOT of challenges and I partook in my first one of theres this afternoon. It's called Weekend Warrior. It's a random extra challenge that is thrown in to the fray from time to time ;)
The aspects of
this weekends challenge
was
to utilise the following items:
1. Masking tape

- Used for the background texture. I layer the background where I want texture with scrunched up masking tape. Paint over the top with gold paint, when that's 3/4 dry paint over the top with antique white. It gives a nice distressed vintage feel :)


2. Fabric

- I used hessian. Distressed and used behind flower sprays and in top right hand corner embie cluster. I've also threaded strips of hessian that came off during the distressing to put the bows in the handmade buttons.


3. Book page or part thereof

- In top right hand corner under mini embie cluster and as part of the 'breakthrough' where the photo is.
4. Anything else you need
And create a layout! That's it!
This is what I came up with....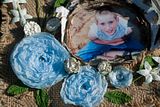 I spy some very gorgeous
Pretty Petals
tissue flowers here - they were originally white, and I've glimmered them "denim blue"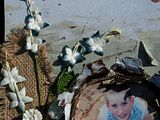 and some My2Angels
Stemmed Starflowers
(which are on special at the moment)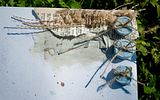 Handmade buttons :)