hmm is that grammatically correct?? Ahhh never mind LOL but I did it!! All SBT50 CC challenges are complete and photographed and uploaded and a big Sigh of relief has been breathed out :) Now onto the monthlies ;) I LOVE challenges and working to a deadline - I think I'm discovering I do my best work when pressured though LOL I knocked over the final 3 challenges in 2 days - running up to that though was a lot of planning and making of embellishments so it wasn't just a mad unplanned rush - even though it probably sounds like it LOL. Some of the embies I made took the best part of the week to make, paint and finish!!!

Sooo without further ado, I present to you fine persons (who happen to have such great taste to be reading my blog **mwah**) my LO's for the SBT50 September 2010 cyber crop - Music and Lyrics!!!!

Opening Night Challenge:


Presented by moi :) I've shown it HERE in a previous post :)
Challenge #1 - Monochromatic:
Oh - that was me again!!! ROFL. Well I've already revealed my class to you all HERE so I wont re-do it again... You can find the details on it HERE too :)
Challenge #2 - Misheard Lyrics:


Presented by the lovely, the talented, the wonderful SBT50 DT member
Anthea
:)
Okies, we were to use lyrics that were misheard or misquoted. I'm sure my brats mis-sung etc songs wrong when they were little but you know what, for the life of me I couldn't (and still can't) recall any of them!!! It's times like this I'm kicking myself for not continuing scrapping to have all this down on paper etc... or at the very least more profuse diary/blog writing!!!! So instead I was browsing the SBT50
FORUM
and
Bec
was saying something about
Kathies
phone ringtone which is Jeremiah was a Bullfrog (Joy to the world) while at the same time I was going through my photo's... All of a sudden the song changed in my head to Domenik was a Bullfrog when I found this photo!! And from there I well and truly mis-quoted the song ROFL
I really love how this LO came together in the end :)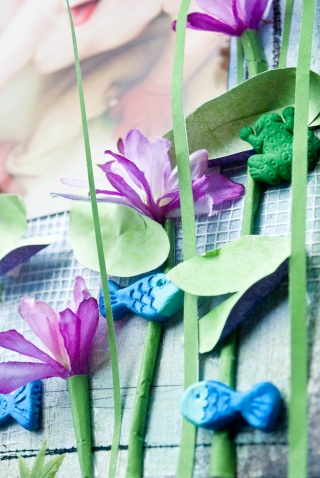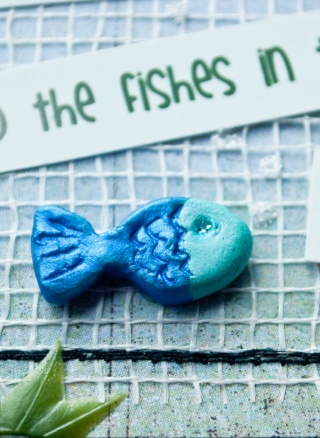 Domenik was a Bullfrog
He's a baby boy of mine.
Put him in the bath with some warm, warm water
and he'd have a froggy slashing time.
As a froggy Dom was mighty fine!!
Joy to the World
All the boys and girls
Joy to the fishes in the deep blue sea
Joy to you and me.
So for the remainder of the challenge...
1. glitter or bling or something shiny - The fish are handmade and painted with twinkling H2O's which give them a metallic finish, also the fish eyes are glitter stickled. the Bullfrog alpha's are also a glitter type.
2. Stiching (machine, hand, hand drawn, rubons - whatever) - LOTS of stitching!! There's a stitched border, as well as the stems for the bulrushes are also stitched (I did 3 needles in with this LO!!!)
3. Use felt or fabric on your LO (but remember ribbon does NOT count as fabric). - The head of the bulrushes is made from hessian that I cut and painted up. I've also made the waterlily flowers from other fabric flowers (nothing like recycling!!!)
Challenge #3 - Get Your Rock On:
Who else could rock a challenge like this other than the rock chick herself, the gorgeous, the ultra talented Soupie Sue!!!
The main element for this challenge was to use the lyrics from the kiss song "I wanna Rock and Roll all Night" You can find the lyrics (and other details of the challenge being discussed etc)
HERE
DS-I Stylin'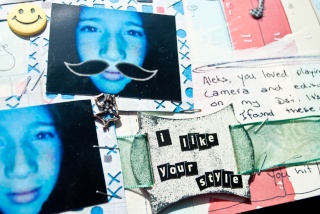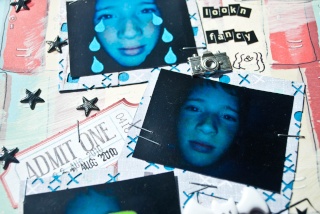 The part of the lyrics I used were
"You're lookin' fancy and I like your style"
1. use at least 2 photos - 4 actually
2. a ticket - Yeps, hiding amongst the photo's
3. at least one piece of altered chipboard (painted / inked / glittered / covered with pp, etc) The tab on the ribbon has been painted and then stamped before stickering the lyrics.
I'm sooo thrilled to have found these photo's Aleks took while playing with my DS-I. He is usually really careful to delete things like this before the DS-I get's returned so I miss this kind of thing usually - not this time!!! He's not that happy that I got them but he likes the LO - kids
I love it!! love the fact he's been spontaneous and having fun - even if he isn't smiling!!!! LOL That's my Aleks
Challenge #4 - How Annoying!!:
Presented to you by the ever funny, entertaining, oh so talented, and super sweet Boss Lady at SBT50 -
Vicki
!!!
This one was relatively simple, we were to scrap a LO using lyrics from an annoying song - something I know a lot about after all I was named after someone who sung an annoying song!!! and I used her for inspiration ;)
This song however annoying it is reminds me that I was named after someone who had a passion for what she did
My middle name is Shari - named after Shari Lewis the puppeteer who controlled Lambchops and co... I grew up watching this show and spent many a day annoying the heck out of my family singing this song.. it has no end so how could I stop it?!?!?! :P
- bright colours - Check!!!
- layering with foam tape - The title and photo are all raised with foam tape
- beads! - The little butterflies are beaded. I was going to do something else, but time beat me (darn procrastinator in me that is Grrrr)
If I had my time over again I'd do the black background differently - I'd cover it all with the lyrics, not just around the photo's - but then I would happen to go ahead and start to stick it all down before I came up with the brainwave to write the lyrics into the background wouldn't I - oh and come up with it less than an hour before the LO's are all due to be uploaded!!! So stay as it was it did - it's OK, but it'll bug me now that I should have done it different/better hahaha
And for those not familiar with this song - check this out http://www.youtube.com/watch?v=1_47KVJV8DU
So there you have it - another CC done and dusted :) Bring on next months ;) I can't wait to see what little gems the DT and guest DT will come up with - I've had a blast being guest DT and look forward to possibly being lucky enough to have the roll again one day :)